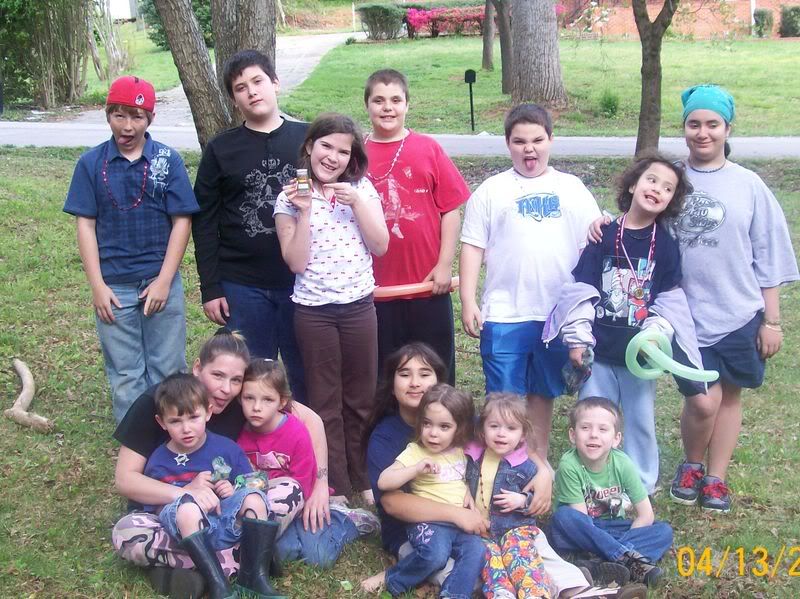 Sara from Sara's Scraps challenged me a few days ago but with my knee surgery I havent been able to sit at the pc for long periods of time.So I figured while it was hurting to much i'd come and get the challenged posted...
The Challenge is:go to your picture folder on your computer.Find the 6th folder.Go to the 6th picture of the 6th folder.Post the picture on your blog and describe it.Pass the challenge on to 6 friends.Link to them on your blog and let them know they've been challenged.
Here is mine
Its a picture of all the kids between hubby & his brother & sister all the mother in law's grandkids.Was taken last year at brother in laws house.There are few of his cousins & there kids in there aswell but there like neices and nephews and grands anyways...
Now to challenge 6 people hmmmmm
1st is Jessica from
Gothic Inspirationz
2nd is Rachel from
Captivated Visions
3rd is Tamara from
Just a Girl Designs
4th is Missy from
Scraps With Attitude
5th is Tammy from
Jersey Girl Scraps by Tammy
6th is Melissa from
Melissa's Creationz